How to make Group Messages

Want to know how AEF makes that message that shows up for guests? Curious to find out how to make certain words bold or link to other areas? This step by step guide will show you how and offer some tips on how to make the most use of this nifty feature!

Before beginning, it is important to make sure that you are the administrator and have ACP privledges of the board you are attempting to do this on. Without being able to go into the ACP (also known as Admin or Administration or Administration Control Panel) you will not be able to do this.

Step 1: Enter your forum\'s ACP.

Step 2: Scroll down until you get to the User Groups Section. Click on to enter Manage User Groups.





Step 3: Once there, click on Edit next to the group you want to create the message for. In this example we will be making a message for Guest, so we will be clicking on Edit for the Guest membership group.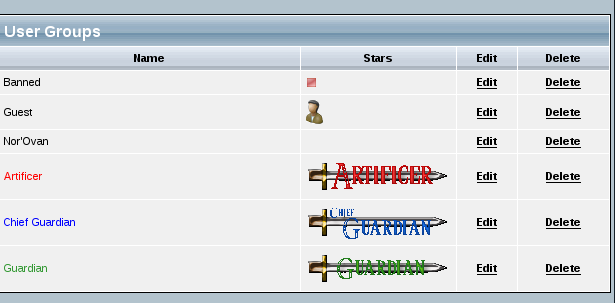 Step 4: Scroll down to the bottom to the Shout Box Permissions section in this page. It is the last section, right above the submit button. While this has nothing to do with a shout box, the area to create group messages is there. Simply create the message you want and hit Submit. This will make a message that only those in that membership group (in this case Guest) can see.





Tips and Tricks

You can always test this out by logging out and viewing the site as a guest, assuming you made this message as a guest. If you made the message for another member group, you may need to make a test account to see the changes. I would suggest though to make the message for guest, even if you want it for another member group. That way you can view it and test it easier. You can always copy and paste that message for the membership group that you desire.

Also, as shown by my example, you can use BBCode. I used bold tags, however you can also use other tags, including hyperlink tags to make a clickable link. Thus you could make a link in the membership group message to take them straight to the registering page. You can also use this to show an image to the group.